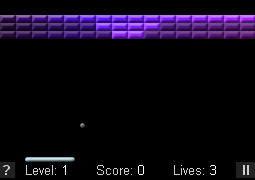 A few months ago I learned about this excellent set of games created by rkm for the Nintendo DS browser.
Inspired by this, I thought I'd try my hand and at creating a game of my own for the system. Here, finally, is the result of that work. The game is fairly straightforward, move the paddle around to bounce back the ball, break all blocks to proceed to next level. Bonuses can fall and can be good or bad. Currently only four levels available, more (and further game improvements) may come later.
The bad news is that neither me nor rkm were able to find a way to get the dragging effect of the stylus to be recognized, presumably since this is caught for the window panning instead. Thus, to move the paddle you just tap the place where you want to go. A little annoying, but you get used to it. Another note, the game works best in SSR mode, so make sure you set your browser to that before you start.
It's also occured to me that this game might make a nifty widget, too, so I may release an Operanoid widget later.
Without further ado: Operanoid!